The magic of Molivos at your feet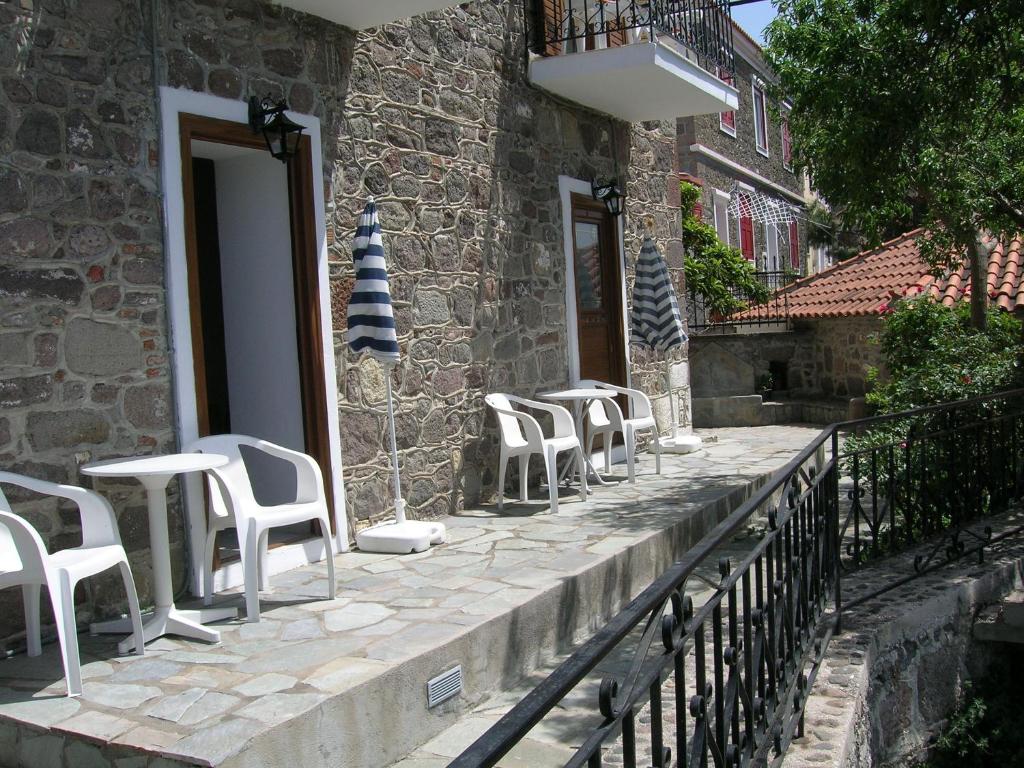 If what you're looking for when you're on holiday is the sun, the sea and a quiet cozy room with the most outstanding sea view, then you have just found it. Voula Studios are situated at a very quiet neighborhood just below the Byzantine Castle of Ancient Mythimna and at the same time very close to the centre of the market and all the shops. You can open your window and almost touch the Aegean Sea and the old fishing harbour. You can take a stroll down the streets and in two minutes you will come across the bakery, the mini markets, the cafes, the tavernas, the Agora (market) and its unique shade made of wisteria. You can enjoy the most relaxing time at the most romantic village of Lesvos island.
There are seven studios. At the top floor there two in front and two at the sides. At the ground floor there are two rooms in front and one at the left side of the building. Almost all rooms have a sea view, the rooms at first floor have frontal sea view and the ground floor rooms share a traditional yard where one can appreciate the view that will make you linger there a little longer…
With a fully equipped kitchenette, a wc and shower room, tv and air conditioning, with a balcony or yard and incredible views to the sea, to the harbour, to the red roofs, to the beautiful and unique settings of Molyvos and last but not least, with the peace and quiet that you cannot find in a lot of accommodation, Voula Studios will win you over so you can… return.
Molivos
Molivos (or Mithymna) is the birthplace of author Argyri Eftalioti and also the poet and first guitar player in written history, Arion (625-585 b.C).
A paradise on earth for every artist and every guest, Molivos is built on a hill with the clear blue waters of the Aegean and the picturesque traditional harbor resting at its foot and the well preserved Byzantine Castle crowning its top. The stone houses with their red roofs, the cobbled alleyways, the old fountains, the mansions, the wisteria covering the streets of the market area (agora) …all this authentic and genuine beauty has been the reason for Molivos to be declared as a traditional settlement since 1965. And that is why it is beauty …unspoiled.
But you will find a lot more here than pure beauty. In fact, you can find almost everything. Good food, night life, breathtaking views, walking routes, a huge variety of sport opportunities, thermal springs, local products and local craftsmanship, a department of Greece's Fine Art School, great pieces of art from well known artists at the Municipal Art Gallery and almost everything you need to enjoy a holiday that isn't just sun and sea.